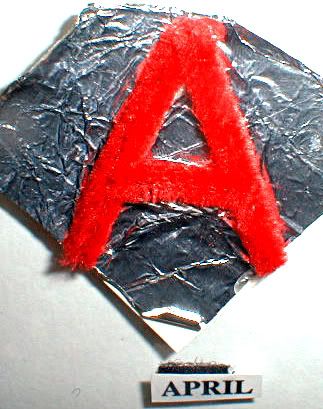 April has come and gone. This monthly wrap up is a little late because I've been at a conference in St. Louis all week. Although my hotel overlooked the magnificent St. Louis Arch and I'm sure I could have had some lovely runs along the Mississippi River, I chose not to bring any running gear. Typically I find I'm too exhausted from all the conferencing to work out but I'm also not very comfortable running in a strange city without a guide. And my hotel wasn't one of those that offers guided running tours. Have you heard of those? Pretty cool idea.
Anyway, I suppose I should get on with April's wrap up. I mean, it is pretty exciting and all. Why is it exciting? Because of the half-marathon of course!
Running your first half-marathon is a pretty cool feeling. However, it's sort of like what happens in January after all the holidays are over. I thought I would be overcome with emotion. I thought I would cry as I crossed the finish line. But I didn't. I felt a little let down. Months and months of work, all that planning, and it's over in (at least in my case) just over two hours (2:13:25, to be exact).
I kind of want to wear my medal around everywhere just so that people will ask me about it. I want to tell them how hard I trained. I want to tell them about how I'm doing another one in July. I want to tell them my time. But, of course, no one but you guys cares about those things. So, instead, I put my medal in a shadow box and I plan to hang it in my office at work.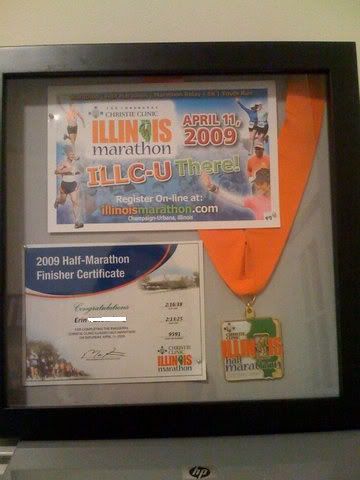 And what about my April mileage? Well, it certainly wasn't as impressive as March but I did hit a total of just under 65 miles for the entire month. And that's even with taking almost two weeks off! Crazy!
Now for a May preview: This upcoming week the plan is to try and hit 15 to 20 miles. And then on May 11th
Holly
and I start training for the Napa-to-Sonoma Half Marathon on July 19th. She'll be training in California and I'll be training here in Illinois. She also has a running group that she can do speedwork with and access to hills. I have neither. Guess who has the advantage? Regardless, she put together an awesome training plan for us to follow. I'm pretty sure it will allow us to kick this next race's butt. Assuming, of course, heat doesn't kill both of us and the hills don't kill me.
And, assuming I don't get sucked into a work event, I'll be running the Chase Corporate Challenge 3.5 mile race on May 21st. Finally, an evening race! It will be interesting to see how I do. I've never run an evening race before.