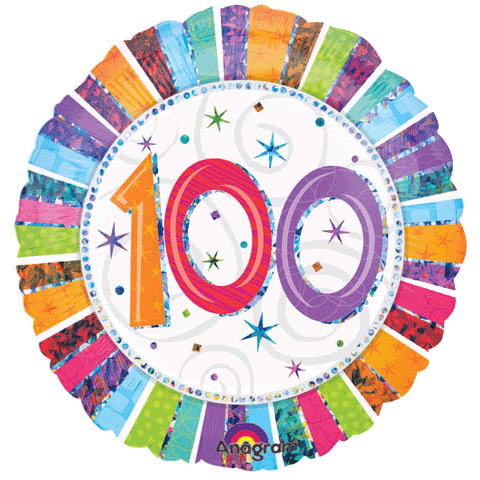 Well, would you look at that! This post here is my 100th post since starting this blog back in January (and adding my previous years' race reports to the archive). Pretty nifty, huh?
So how shall I mark this event? I suppose I'll write about the 4 miler I did yesterday morning.
I let myself sleep in since I had the day off and I'd spent all of Sunday doing yard work. I'm STILL sore from digging and mulching and planting so I'm sure I needed the sleep and the relaxation. So, even though I could have gotten up and run 4 miles at 8 AM or earlier, I headed out around 10:30 AM instead.
The plan was to do 10 minute miles the entire way. I did really well for the first mile! The rest of them, not so much. I just can't seem to slow down on these short runs.
I saw quite a few other runners out and about yesterday. I guess 10:30 AM on Memorial Day is a prime time for running. It was in the mid 60s and overcast which made for nice running weather. Also, it was nice to get my run out of the way and then spend the rest of the day with friends. Running tends to leave me energized.
In fact, I was thinking about that whole energized thing while I was working in the yard on Sunday. I worked like a dog and yet the only time I ever started to feel actively tired was when I was standing in line at the store buying more plants. I really think that my increased distance running has given me the ability to be active for a long period of time doing just about anything before I feel tired. What an awesome benefit!
Before I leave you with the stats from yesterday's run, I have to get it out there that I'm really apprehensive about the speedwork that I have on the calendar for tomorrow. It's very track dependent and I haven't found a track to use yet. Also, I have to admit, I'm anxious about showing up on my own to any of the local high school or college tracks and trying to figure out if they're open to the public. I may end up with a stop watch and the tiny indoor track at my gym. If I can figure out how long the indoor track is....I'll keep you updated. Of course.
But for now, here are the stats from Monday's 4 Miler:

Activity
Route:
--
Elev. Avg:
628 ft
Location:
Forest Park, IL
Elev. Gain:
+0 ft
Date:
05/25/09
Up/Downhill:
[+78/-78]
Time:
10:34 AM
Difficulty:
2.0 / 5.0
Weather:
Overcast
62 F temp; 44% humidity
62 F heat index; winds E 12
Performance
Distance:
4.00 miles


Time:
0:38:03
Speed:
6.3 mph
Pace:
9' 31 /mi
Calories:
432
Map
Elevation (ft)
Pace (min/mile)
Splits
Mile
Pace (min/mile)
Speed (mph)
Elevation
Gain
actual
+/- avg
actual
+/- avg
1
9' 58

+0' 27

6.0

-0.3

+3 ft
2
9' 13

-0' 18

6.5

+0.2

+10 ft
3
9' 26

-0' 05

6.4

+0.1

-7 ft
4
9' 14

-0' 17

6.5

+0.2

-7 ft
end
9' 10

-0' 21

6.5

+0.2

0 ft
Versus average of 9' 31 min/mile