Kim
asked me at the end of last week if I wanted to run 8-10 miles with her on the weekend. Well of course I did! She even suggested a new-to-me trail: the
Des Plaines River Trail and Greenway
. I'd been jonesing for a nice run that wasn't marred by having to stop for traffic or watch out for cars and this was the perfect solution. Company and a beautiful trail? How could I say no?
We met up around 8AM and it was much warmer out than I'd thought it was going to be. I felt sort of silly in my long sleeved shirt. I think it was warmer outside than it was in my house.
The first few miles of the run felt tough. I was really struggling but Kim kept me distracted with conversation and together we oohed and ahhed at the trees. I mean, look at them: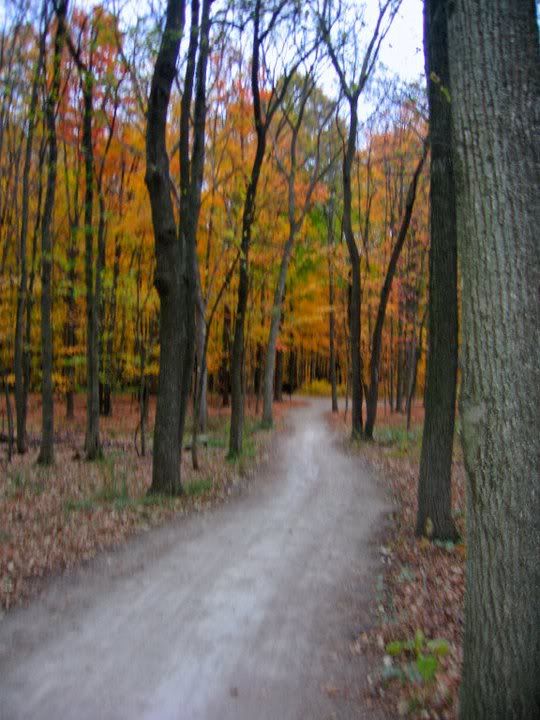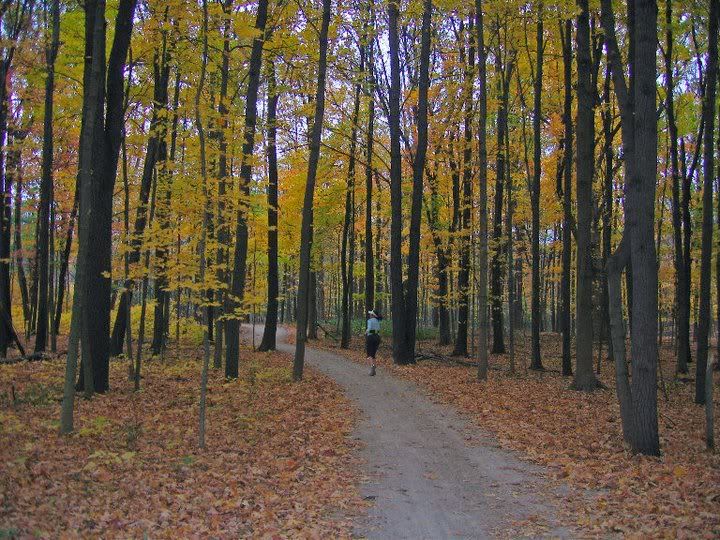 Between mile 4 and 5 I started to get a weird feeling in my stomach and I had to stop and walk. Of course that's when we got passed by a group of bicyclists who shouted "WALKERS UP!" Okay, we might have been walking right that moment but we are runners! Ah, well.
I felt better after eating some Shot Bloks so I think it was just a case of not enough pre-run fuel. In fact, I felt so much better that other than stopping to take some photos during mile 8 we ran negative splits for the second half of the run. Woo hoo!
Towards the end of our run we got passed by a Team in Training coach.
"Hey, ladies! How's it going?" He asked.
"Good," we responded.
"You know," he said as he ran past, "if you answer 'Forward' you're never lying!"
We laughed but I think he made a good point. I'm going to remember that for the future.
At the beginning of the run I didn't know if I would make it all 10 miles. But by the end I felt pretty good. Have I really become the type of person that now takes 5 miles to warm up? Perhaps I have.
Kim and I have plans to keep our weekly mileage between 20 and 25 this winter and to meet up at least once a month for a long weekend run. The seasons don't stop going forward and neither will we.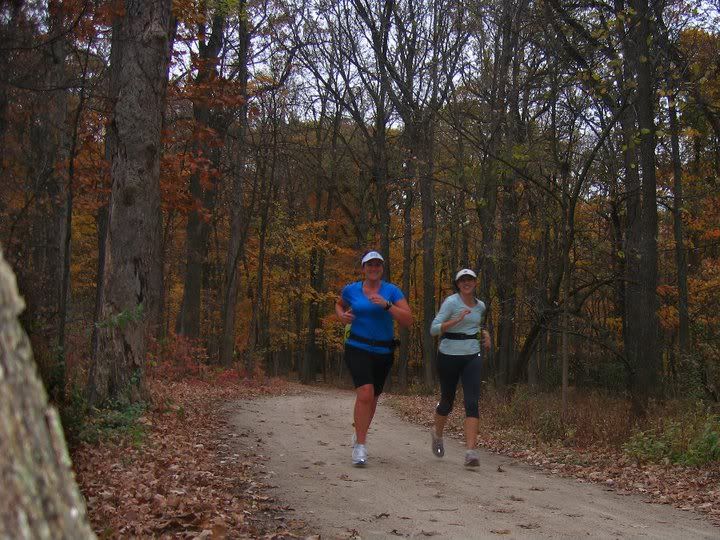 ********************
Activity
| | | | |
| --- | --- | --- | --- |
| Route: | -- | Elev. Avg: | 659 ft |
| Location: | -- | Elev. Gain: | +0 ft |
| Date: | 10/23/10 | Up/Downhill: | [+282/-282] |
| Time: | 08:10 AM | Difficulty: | 2.9 / 5.0 |
Performance
Distance:
10.00 miles


Time:
1:45:13
Speed:
5.7 mph
Pace:
10' 31 /mi
Calories:
1194
Map
Elevation (ft)
Pace (min/mile)
Splits
Mile
Pace (min/mile)
Speed (mph)
Elevation
Gain
actual
+/- avg
actual
+/- avg
1
10' 40

+0' 09

5.6

-0.1

-10 ft
2
10' 38

+0' 07

5.6

-0.1

+6 ft
3
10' 34
+0' 03
5.7
-0.0
+30 ft
4
10' 44

+0' 13

5.6

-0.1

-9 ft
5
12' 00

+1' 29

5.0

-0.7

+53 ft
6
10' 22

-0' 09

5.8

+0.1

-50 ft
7
10' 19

-0' 12

5.8

+0.1

+9 ft
8
11' 41

+1' 10

5.1

-0.6

-33 ft
9
9' 56

-0' 35

6.0

+0.3

-7 ft
10
9' 36

-0' 55

6.2

+0.5

+10 ft
end
**
**
**
**
** ft
Versus average of 10' 31 min/mile
** Insufficient data to calculate this split