Yesterday evening at 6:30 PM I joined approximately 14,000 other people to run the Nike+ Human Race 10K in Chicago. About two and a half hours before the start time, I got ready, packed my bag, put on my race shirt, put on my timing chip (my first ever!) and headed out the door to catch the train.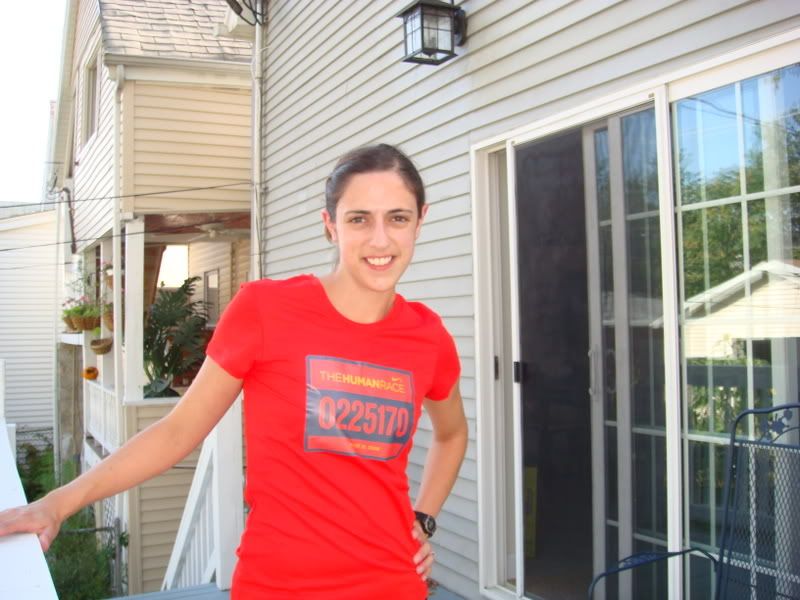 At first I was a little annoyed that I would haven't a separate race bib number to put in my race scrapbook, but I have to admit it was nice not to have to worry about pinning anything to my shirt.
After taking a train and a very slow-moving bus and chatting with a couple people who drove in from Iowa City, I found myself at
Soldier Field
, the home of the Chicago Bears and lots of history-making events. It was amazing to look around and see so many red shirts.
This is the starting line: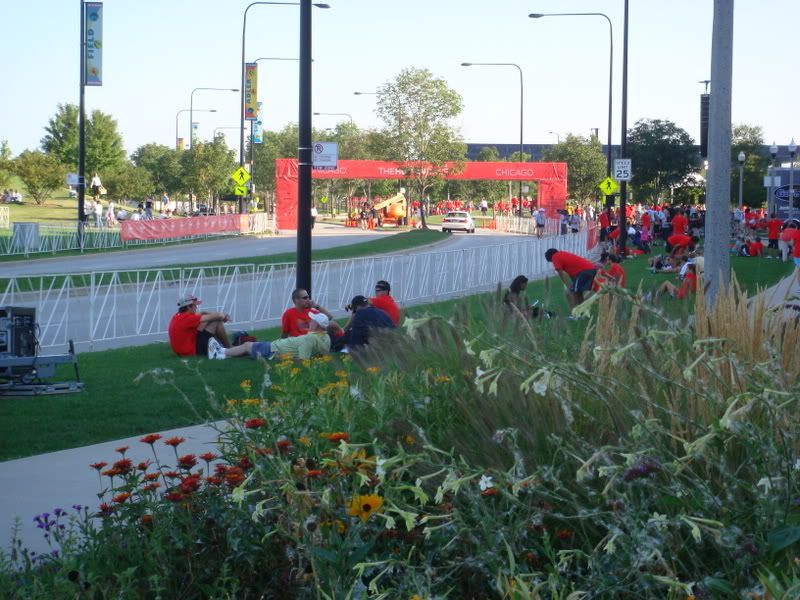 And the outside of the stadium: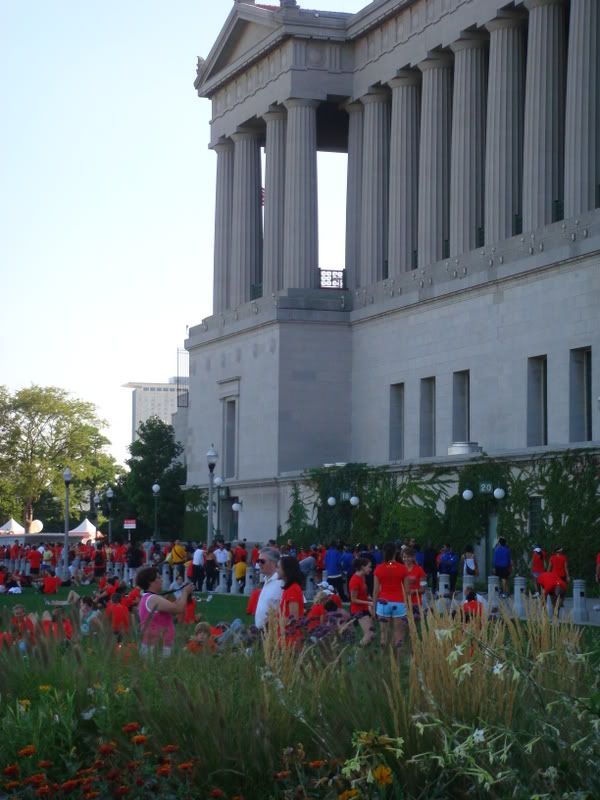 By the time I got there it was still an hour to race time. I checked my bag at the bag check which was surprisingly not as crazy as I had anticipated. I then headed out to wander around. I realized after a few minutes that I had left my free Powerbar and granola in my bag along with my signature bandanna. I didn't feel like going back and getting them. Luckily they were handing out lots more free Powerbars and granola. I grabbed a packet of granola and a bottled water and fueled myself up. Then I found a spot in the grass to do some light stretching.
About 6:00 the announcers asked us to start lining up at the start line according to our project minute per mile pace. They had placed signs along the sides of the corral indicating sub-8, 9, 10, 11, and 12 minutes miles. What they failed to account for were the large numbers of people who, well, don't run a sub-8 mile. Those of us in the 10 minute mile area were so squashed together. When the first gun went off at around 6:45 (15 minutes late) they asked just the sub-8 mile people to start and the rest of us to wait. Well, you can't put 14,000 eager runners at a start line and ask them to shuffle slowly to the mats. Haven't these people ever run a race? So, those of us towards the back slowly inched up to the actual start line. This meant my start was horrible. More like one of those tiny, tip-of-the-toes comical jogs that you do when you're trying not to step on the person in front of you.
The people never really thinned out. I felt as if I was dodging walkers and slower runners the entire race. I couldn't find anyone to pace off of, either. I really got the impression that there were a TON of people for whom this was their first racing experience. Lots of walkers in the middle of the road, lots of people starting out too fast. People changing speeds all the time. Perhaps this is always the case at such a large race (this was the largest race I've ever run. Prior to this my largest race was about 600 people) but either way I found it incredibly annoying. And it was really difficult to pass people because our running path kept getting narrower and narrower.
We started out with about four traffic lanes to ourself. Sadly, these four lanes were underneath the
McCormick Place convention center
where the air was still and it was hot as blazes. However, people were making the best of it by whooping and hollering to hear their voices bounce off all the concrete surrounding us. Once we exited the convention center our running space dwindled down to two traffic lanes. This two lanes thing continued the entire way down Lake Shore Drive. Once we crossed over Lake Shore Drive and head back north it got worse. Suddenly we were on a bike path. A bike path for 14,000 people? Ridiculous!
I had made it to the half-way point in just over 30 minutes and felt good. I was planning on amping it up for the second half but there were just so many people to dodge. Every time I'd find a good pace I'd come up against a wall of people and have to slow down while I waited for a chance to go around them. I skipped all the water and Gatorade stations because the crush of people was insane and since my goal was a sub-60 minute time I didn't want to waste it on fighting a crush of people for water. In addition, I've yet to have a good experience with drinking anything while racing. It usually just makes my stomach cramp up.
There were a few bands and a DJ along the course playing music to keep us motivated. We ran past several pre-Labor Day picnics and lots of those people cheered us on. Little kids and adults alike stood by the side of the bike path with their hands out-stretched to give us five. One group of kids I passed was keeping track of how many people actually slapped their hands. The crowds were definitely encouraging.
Night started to fall and it became very dark on the bike path. I couldn't see my watch anymore and I had no idea how much further we had to go after awhile. Finally we hit the 5 mile mark and I tried my darnedest to ramp up my speed. I passed a woman who was talking to herself saying "You can do it. You can finish strong. You can finish in under an hour." I looked over at her and said, "I think you're reading my mind." "Then let's do it!" she said. Sadly, I lost her in the darkness and the throngs of people. Once again, as hard as I tried to push it I felt as though I was being thwarted by slower-moving people at every step. Mile 5 felt like the longest mile of my life. I had managed to keep my shoulders from aching until then but during that last mile they became very painful. Suddenly there was the mile 6 marker and I knew we only had .2 to go. I sped up just a little bit. I still couldn't see my watch so I had no idea how close I was to my goal time. Finally I could see the finish line. I sprinted around several people as I ran for my life towards that timing mat. I think the clock said 1:15 and I prayed that it had taken me more than 15 minutes to make it across the start line.
As always, they were telling us to keep moving and not to block the finishing chute, but it was still packed with people. Volunteers were handing out finishers bracelets in what looked like cardboard relay batons. We were herded through a narrow walkway to a chip-removal station. It was hot, I was tired, I was thirsty and, honestly, I felt like I was going to pass out. I'm not typically claustrophobic but at that moment I had to squelch the urge to scream at the top of my lungs that I wanted out. The chip removal women were very nice and I felt sorry for them that they were working in essentially pitch blackness (um, hello, it's night! You might want to get these people some flashlights or something). But, really, all I wanted was water. The guy next to me expressed that sentiment out loud and we were told to keep moving. After what felt like an eternity we found the water station. It wasn't cold but I didn't care. I downed that thing and then wandered zombie-like over to the free food stations. Our choices? Yogurt, granola, or Powerbars. I grabbed a
fruit smoothie Powerbar
and ate it while I wandered around in a daze. I called my husband and my mom to let them know I finished. We chatted for a little bit. I picked up my bag from the bag check. Then I asked someone to take my picture.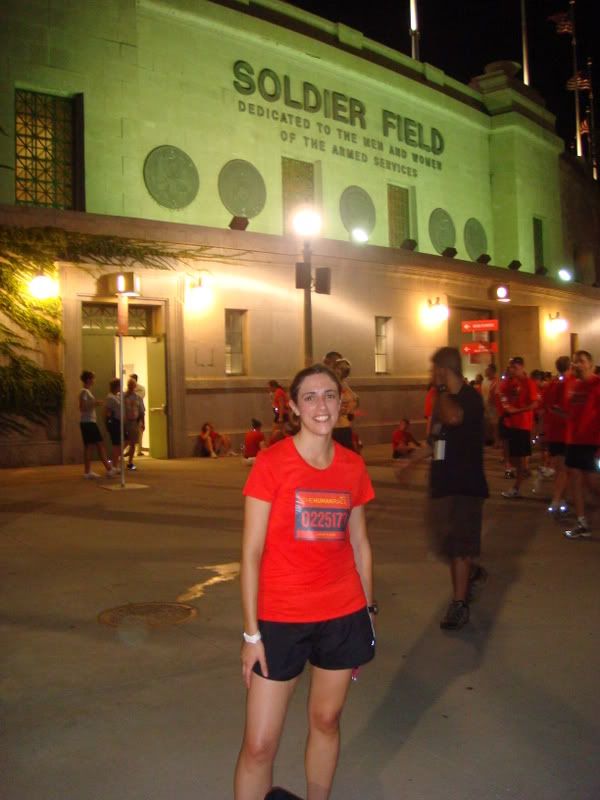 The post-race entertainment was a concert by Fall Out Boy but I really had no idea what time it started. Around 8:30 I wandered into Soldier Field and lo and behold they had already started. I hung out on the floor for awhile, got my picture taken at professional photo booth (I have no idea when those will be available), and decided I'd better get something more than a Powerbar to eat. I debated buying a beer but for $7.00 and on a mostly empty stomach I decided that would be a bad idea. What I really wanted was a big soft pretzels but I didn't see any. Nachos I saw. Hot dogs I saw. Finally I saw someone with pizza and that sounded fabulous. I finally found the pizza stand only to discover that they were running really behind on making them. I didn't feel like waiting. I figured my Powerbar would do until I could get home.
Fall Out Boy was okay. I'm not a huge fan of concerts in general and especially not when I'm there by myself. However, seeing the sea of red on in the seats and on the floor of the field was certainly impressive.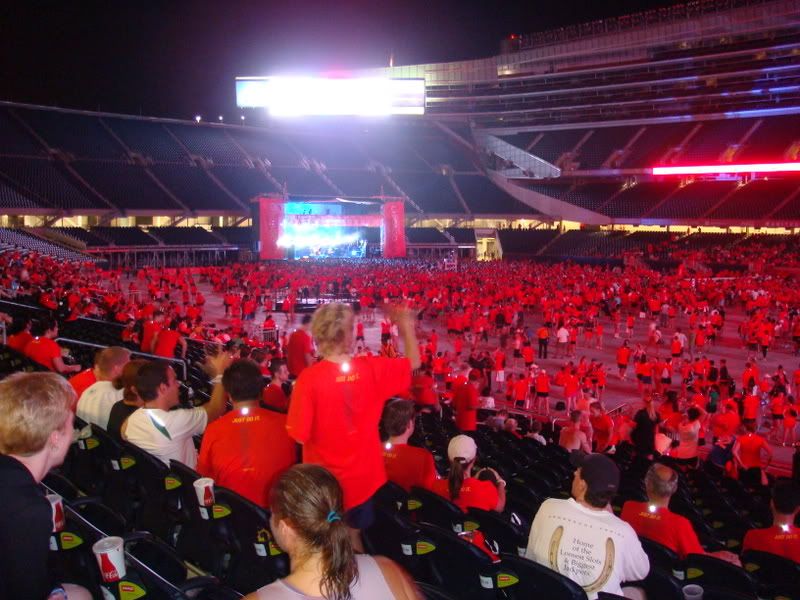 Also, I'm not even a big football fan but to stand in the middle of the arena and look up and realize that this is what professional football players see was pretty cool.
Around 9:30 Fall Out Boy called it a day and I headed out to find my way home. I chatted with two guys from Vegas who were combining a vacation to Chicago with running the race. I told them that my goal had been to run a sub-60 race. One of the guy's goals was to run it in 1:15 and the other one just wanted to finish. It was his first race. I lost them at some point because I think they were more wiped out than I was. That's hard to believe, though, because the 1.5 mile hike to the train station felt like the Bataan Death March. My feet hurt, I was tired and achy, and craving pizza. Also, I don't think my stomach really enjoyed that Powerbar because it felt kind of crampy.
After the trudge to the train station I waited what was an interminably long time for the first train. Then, once that one took me to where I wanted to be, I waited for my train home. On the train I stupidly decided to eat my second Powerbar. All that did was make my stomach feel even more strange. I finally made it home around 10:30 PM. I debated ordering pizza or just going to bed. I ended up ordering pizza. I collapsed on the couch and found
A Knight's Tale
on the free movie channel. I was too exhausted to pay much attention, though. My pizza finally arrived around 11:30. I scarfed it down and then collapsed into bed.
This morning I looked up my time. I have to admit, I'm disappointed. My official time is 1:02.18. Sigh. I think this is a combination of lots of things. Moving and changing jobs took up a lot of my time and energy in June, July and August. It took until last week to get into a strength training class when before I had been taking a combination yoga/pilates/weight lifting class twice a week since the previous fall. I'd lost out on two days of cross-training cardio for almost all of July and August. And my running in June and much of July was sporadic at best. My training before my 59:59 10K was much better. However, there are also the race factors themselves to consider. My first race was done in April on a strangely cold, snowy and drizzly day. It was a much, much smaller race and it wasn't chip-timed. So, fewer people to dodge combined with human error on the timing could account for the time differences. The Nike+ race was much, much larger, I felt like I was dodging people the entire time, my start was crappy, and it was chip-timed. So, who knows? So, yes, I'm disappointed that my official time was not sub-60 but at least now I have a goal to work towards. Get it back under an hour!